How Durable Will Your Hinges Be?
When Purchasing a Frameless Hinged Shower Door, one of the Biggest Considerations is how strong are your hinges, and how long will they last? You need your door to open and close the same year after year: Not only for the looks, but the water-tightness. Floyd uses only Heavy Duty Hinges for all of our Frameless Shower Doors that we install.
Your new Frameless Shower Door can weigh up to 80 lbs, & it will be one of the most used doors in your house, so you need to make sure it will last.
Hinges are tested for "Pulls". Entering the shower is one Pull and exiting is another pull. With 2 people showering every day, it will take 4 pulls a day. The Industry standard to test the durability of hinges is only 2500 pulls. If we do the math: 2500 divided by 4 is 625 days, which is a little less than 2 years. At Floyd, we found this unacceptable and set out to find better hinges for our customers. We want our doors to last more than just 2 years.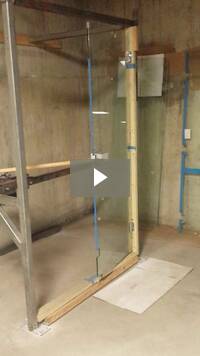 We are proud to work with Portals Hardware out of Kansas City. They based their hinge test on 3 showers a day, which gives you 6 pulls. They hook a door to a machine (see video above), and it runs for 72 hours straight. It simulates 32.8 years of durability: at 6 pulls a day!  It's your shower: Don't settle for just 2 years.
TEST RESULTS 
72,000 cycles (openings and closings) EST. YEAR USAGE 2190 OPENING A& CLOSINGS 32.8 YEARS (3 SHOWERS/DAY) 6 OPENINGS AND CLOSINGS PER DAY 2190 OPENING AND CLOSINGS PER YEAR.